By: Logan Bednarczuk
Mike Brown is once again the coach of the Cleveland Cavaliers.
When the news broke a few weeks ago I was one of the many who were outraged; I never despised a coach as much as I despised Mike Brown. But was this feeling toward Mike Brown truly fair? Dislike of Mike Brown can be difficult if you are a Cavs fan, as most of your fondest Cavaliers memories probably come from the Mike Brown era.
He is inarguably the most successful coach in Cavaliers history. The Cavs had an astounding 272-138 record in his five seasons as their coach and he led them to not only five playoff appearances, but also never lost in the first round. He even led Cleveland to the 2006-07 NBA finals. In 2009, while leading the Cavaliers to a franchise record 66-16 regular season record, Brown won the Coach of the Year award.
You would think a coach with such a large list of achievements would lead me and other fans to be ecstatic that Mike Brown was returning, but we as fans possess bittersweet memories of his tenure and were largely upset at his return.
Under Mike Brown, the Cavaliers were consistently great, breaking team records and dominating the regular season. Every year felt like it might be our year to finally bring a championship to Cleveland. Yet, every year we came up short. Most of the blame fell upon the shoulders of our MVP superstar and our coach. Critics claimed that the "King" did not have the winning spirit that makes someone truly great, the intangibles that do not show up in the stat sheet, the extra "stuff" that Jordan oozed through his pores.
Mike Brown was seen as being incapable of getting the best out of LeBron and his supporting cast to perform like champions or design the wining plays to do so. In a bid to keep LeBron from leaving town, Cleveland fired Mike Brown after the 2009-10 season after his Cavaliers had a disappointing collapse in the Eastern Conference Semifnals.
They hired Byron Scott, a more offensive minded coach who was better known for his ability to draw up plays and handle the X's and O's of coaching. It was a last ditch effort to prove to LeBron that they were committed to winning a championship at any costs, which would have cemented LeBron's legacy by bringing that elusive championship to Cleveland.
Sadly, we all know that this plan did not work as Cleveland's management had hoped. LeBron took his talents to South Beach and Cleveland was left to wallow in an ongoing rebuilding process with the dregs of the Eastern Conference.
Now after three dismal seasons, the Cavaliers wish to rebuild through the past by hiring Mike Brown to once again seize the helm of a young Cavaliers team. Many are excited at the prospect but many more seem to be upset. Both make a solid case with good points on both sides.
In this article, I hope to bring together both camps. This is an appeal to those who are outraged by showing them that its not all bad and some positives could come of his hiring, while also showing those who are gung ho about the hiring the reasons there are skeptics and why it is okay to be skeptical going forward.
M
ike Brown as a coach has been labeled a defensive specialist, and he certainly has lived up to that reputation. While coaching Cleveland, the Cavaliers were one of the best defensive teams in the league. Defensively under Mike Brown each year, the Cavaliers ranked 14th, 4th, 11th, 3rd, and 7th, respectively, in points per 100 possessions. Every year, the Cavaliers were one of the best defensive teams in the league and showed a focus and effectiveness that we have not seen recently in Cleveland.In comparison, under Byron Scott the Cavaliers ranked 29th, 26th, and 27th in points per 100 possessions over the past three seasons. Though these are truly dismal statistics, they aren't all that surprising and not entirely Byron Scott's fault. The team he inherited was in total disarray with our defensive centerpiece and superstar jumping ship along with our two centers, Zydrunas Ilgauskas and Shaquille O'Neal. Throughout his tenure, Byron Scott had to deal with a roster that went through a gradual revamp that saw most of the old guard either traded or just simply not re-signed and a new youthful group handed the reins. Gone were Mo Williams, J.J. Hickson, Ramon Sessions, and Anthony Parker. In were Kyrie Irving, Tristan Thompson, Dion Waiters, and Tyler Zeller.
Dealing with such a dramatic roster turnover that also features so many young players would make it difficult to establish an elite or even an average defense. No one expected the Cavaliers to maintain the same defense efficiency under Byron Scott, but the way in which they had not improved themselves is what has resulted in his termination. Last season was the time we would really get to see improvement. He had a whole season and training camp to work with our new young core. No one expected a juggernaut defense, but we did expect some improvement for our team. Kyrie in particular was awful last year and we all hoped to see that part of his game come together throughout the season. Sadly, improvement on defense for Kyrie and most of the rest of our team was hard to come by.
This just should not have been the case. Although we did not have an overwhelming amount of skill and ability on the defensive end, we had enough talent to be far better than we were. Too many times we would have poor switching and just a lack of communication on defense. It was not that the Cavaliers possessed a lack of athleticism; it was more they just were either not coached to do these things or just completely ignored Byron Scott's wishes. Either way it was unacceptable. And Cleveland's lack of discipline and understanding of simple defensive concepts was not even the worst thing about our defense, it was the shocking lack of effort from many players that was most disheartening.
Kyrie Irving takes most of the blame for this considering that he is only 20 years old and is the leader on the team but showed a complete disregard for defense through most games. Even in tightly contested fourth quarters could he be seen jogging back on defense after a turnover or a missed shot. This was so bad, in fact, that opposing announcers sometimes assumed he was injured because he had such a complete lack of effort. Kyrie isn't the only one who deserves to be chastised for his lack of effort, but he is just the largest disappointment considering his ability and how he is seen as the cornerstone for Cleveland's future.
No one fears that Mike Brown will not be able to better help the defense in Cleveland. Half of the battle in any game is playing defense. During his first stint as coach, he inherited a team with great potential but no real identity and turned it into one of the elite defensive units in the NBA. He got the Cavaliers to play a committed team defense that featured many players who were not seen as good defenders individually. If you go back and look over the roster for Brown's 2009 team that made the Eastern Conference Playoffs and ranked 3rd in defense per 100 possessions (the best mark by any team under Mike Brown), you will see that very few players that jump out as great defenders on that roster. Only LeBron and Varejao really distinguish themselves from that group (and it may be fair to say that their leap to defensive greatness may be greatly attributed to Mike Brown).
Mike Brown's teams proved effective because he taught and effective system where players understood where their teammates would be and effectively bought into a system that allowed for suffocating defense. This is not to say that Mike Brown will be able to turn this current roster into one of the best defensive teams in the league, but I am confident he will be able to put together the necessary schemes and build the right team mentality to play at least a competent and hopefully highly effective defense.
The Bad:


LeBron eating up the shotclock: Bad.
After listing the achievements of Mike Brown as head coach in Cleveland and also discussing his aptitude as a defensive coach it is probably odd to many that I, and so many other Cleveland fans, was so distraught initially at the thought of him returning for a second tenure. This question is tough to answer and even harder to explain for those who were not Cavs fans during Mike Brown's last stint in Cleveland.
Largely, this feeling stems from the tragic way that the LeBron and Mike Brown era ended. We, as fans, truly felt going into every year after the 2007 season that we were going to get a championship with the league's best player as our centerpiece. Yet, every year we failed. Although in retrospect this largely can be blamed on a variety of reasons (one being our weak supporting cast that surrounded LeBron), we saw a team that seemed more playful than serious and seemed to lack the focus needed to win a championship. We also were greeted with what felt like a constant lack of offensive adjustments that occurred every season during the playoffs and in crucial games.
One of the arguments which continually gets brought up against Mike Brown's hiring is that he is a terrible offensive coach. Yet, under Mike Brown's watch, Cleveland ranked 9th, 18th, 20th, 4th, and 6th in points scored per 100 possessions in each of his five years as coach. Although not all of these numbers are eye-popping, he had been able to create a very efficient offense in the last two years of his tenure. With these numbers in mind how is it that so many people claim that Mike Brown is not a good offensive coach? One aspect of their claims stems largely from what is perceived to be his inability to adjust specific in-game strategies or map out plays in crucial game time situations.
In professional basketball, it can be difficult for fans to truly understand the impact that a coach has on a team, whether it be positive or negative. We do not get to watch practices and see the hands-on work coaches provide. Nor do we get to view the locker room speeches and the in-game adjustments that are attempted and described or really get to understand everything that goes into the player management of each individual team.
But, what we can see clearly are the plays a coach draws up in a timeout with an expiring clock. These moments are few but they are critical moments where we can get a clear glimpse of a coach's understanding of the game. Mike Brown struggled with this greatly and we had many occasions where the ball movement would die and LeBron would be left to play 1 on 5 with the clock ticking down. This was irksome for fans and probably unjust to weigh his offensive aptitude as a coach based on just this, but this kind of showing was so consistent and in so many crucial games that it became a huge problem.
When Byron Scott was fired, Dan Gilbert highlighted that it was a desire to get back to having a defensive minded team identity. This, however, should not lead you to believe that our offense under Byron Scott was without its issues. Last season the Cavaliers were not the high-octane offense that Byron had once promised, as they ranked 19th in offensive efficiency and points per game.
This, however, was substantial growth from the past two seasons and Kyrie, in particular, flourished in Scott's offense. With Mike Brown taking the helm we will hopefully continue to see growth in our offense as Kyrie and his young supporting cast develop together as players. Specifically, this growth must continue with Dion in addition to Kyrie, so the offense can flow more naturally through our young potential-laden stars. After all, if there is one thing we know it is that Mike Brown can effectively run an offense through a key superstar player or two. Hopefully we just will not have too many close games down the stretch in which Mike Brown has to draw up a play.
One of the hardest things to measure under a coach is what kind of culture and attitude a coach brings to a team, yet, it is one the most scrutinized things a coach does. It is difficult due to the many different actors that impact a team's culture: the owner (Editor's Note: See Lerner, Randolph D. for a negative example), the front office, the coach, his assistants, and the players themselves.
In Mike Brown's case, he also was in the unique position of coaching the league's most talented player, LeBron James. This was undoubtedly a good thing for Mike Brown's career, as I think it is safe to say he would not have had such great success in Cleveland without LeBron. However, when discussing the team's culture LeBron may have had some negative impacts as well. On the court and off the court the team went as LeBron went. This was encouraged by the front office and the owner who sought to appease their superstar and keep him in Cleveland. We have all heard the stories about LeBron's posse on the private jet and other perks afforded only to the King. Whether it was Mike Brown's fault, Lebron's, Dan Gilbert's, or some other actor, the team had a heavily scrutinized culture in which Mike Brown justifiably receives a large amount of the blame.
The Hopefully Not That Ugly: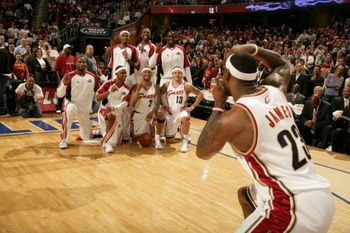 Taking family portraits instead of focusing pre-game: Ugly.
U
nder Mike Brown, the Cavaliers became very close-knit and clicked on multiple levels. They, as a team, would come up with zany pre-game rituals and antics that included everyone from LeBron all the way down to Jawad Williams. On the court, they also had great chemistry, this being most apparent in the way they would play help defense and work as a team in neutralizing an opponent.Interestingly though, even when the Cavaliers were posting a league best record their focus and team identity was being called into question. Their choreographed pregame rituals, and the teams overall goofy and playful nature was seen as a weakness. Critics believed it showed immaturity and a lack of focus, as the Cavaliers continually came up short in the playoffs. Year after year they would dominate the regular season but then would be dispatched in the playoffs. It seemed when the going got tough our team seemed to crumble.
LeBron was largely blamed as not having the effort or desire to carry the team to a championship, but the whole team deserves blame. Over many playoff games, I remember the anguish of watching Mo Williams, our All-Star point guard, miss shot after shot down the stretch, or watching an uncharacteristic break down on the defensive end when a stop was crucial in the final stretch of a game.
Last season the team experienced some chemistry issues unlike anything we ever experienced under Mike Brown. Though the team largely seemed to get along with each other, near the end of the season there seemed to be a rift between Byron Scott and many of the players. Word leaked to the media that many players were unhappy with the way people were being played and how practices and shootarounds were being conducted. Players speaking out against the coach to the media shows a crumbling of team unity and culture that could eventually destroy an entire team's play and trust in one another.
Mike Brown's teams in Cleveland were very close knit (except arguably near the end of his tenure if you believe the Delonte West rumors) and showed a real understanding for playing together. Hopefully this is a culture that he can bring back to Cleveland now. I have high hopes that this team will avoid the pitfalls of the last few squads in terms of their maturity and grit in critical moments.
It seems that Dan Gilbert and Cleveland's front office have learned from the mistakes of the past and will better manage their new young star. By firing Byron Scott, it was clear Gilbert felt pampering Kyrie may not necessarily be what's best for him or the franchise, and though he will receive some star treatment hopefully it will not be as extreme as in the past with LeBron. Mike Brown hopefully will also have learned from the past and better manage his young superstar and the team around him, to not only build a team with great unity but also one with the grit and determination necessary to achieve success.
Looking On The Bright Side…With Significant Skepticism: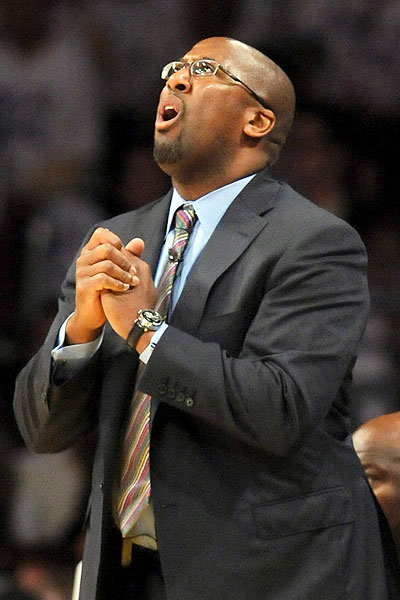 Since the end of the 2009-10 season and "The Decision," LeBron has proven that he is capable of wining a championship and has shown a work ethic and drive that is uncommon for an athlete of his caliber. He is constantly improving his game and coming back every season a better and more complete player than the one before.
In 2011 Mike Brown moved on to a Lakers team with proven championship mettle, only for his team to be eliminated in the second round. Going into his second season as the Lakers' head coach, the championship dreams and expectations only grew when the team acquired a future Hall of Famer in Steve Nash and the best center in the NBA in Dwight Howard to complement future Hall of Famers Kobe Bryant and Pau Gasol. Yet, his team got off to an abysmal start with the Lakers losing all 8 pre-season games and starting the season 1-4. Taking the fall for the team's struggles, Mike Brown was relieved of his duties as the Lakers' head coach and replaced by Mike D'Antoni.
Meanwhile, the Cavaliers bottomed out and have finished in the bottom of the league the past three seasons (Editor's Note: You could say they'll need to go from…The Bottom Up). But through their rough seasons they have been able to acquire a budding superstar in Kyrie Irving and promising young pieces in Dion Waiters and Tristan Thompson. And with Kyrie getting ready to enter his third season, management has shown that they now believe they posses enough pieces to start competing. The hiring of Mike Brown shows that it is time to win now and that we are dedicated in changing the mentality of our young roster. We are moving onto year 4 post-LeBron, and it is time for the rebuild to bear fruit. Fans are restless and rightly so with the potential of our young roster but lack of clear dedication to winning over recent seasons. They are ready to truly see growth so instead of competing for NBA Draft Lottery ping-pong balls they compete for a spot in the playoffs.
We, as championship-starved Cleveland fans, have high expectations. So high, in fact, that we do not realize how good we have it sometimes. The Mike Brown era was an amazing time to be a Cleveland fan. We played meaningful games and enjoyed great media attention and success. Kyrie has recently given us a small taste of that kind of attention again, but we still have not participated in any meaningful games on a big stage in three years (except maybe when Lebron came back to town during his first season in Miami).
Mike Brown may not be the long-term answer for the Cavaliers, but all of us Cavs fans should be excited for the changing of the guard and what it can bring in the short-term. Cleveland is a city desperate for a championship, and I want it as badly as the next guy, but we need to realize that the Cavaliers are not ready to deliver such a thing anytime soon.
The Cavs are a young, talented team with great promise but have a great deal of necessary growth ahead of them. If in the next few years Mike Brown can get us back to the winning ways of the Lebron era, that would be a welcomed pleasure. Who knows, maybe he can even lead us to a championship? If not, hopefully he can better position us for the future with a team that understands how to play defense, while bringing in a coach more adept at the X's and O's of an NBA offense.
We may not win a ring with Mike Brown but we may get back to winning and competing in this league, which, for now, would be welcomed.